Contact Us
E-mail: 1430396450@qq.com
WhatsAPP: +0086 13849118395
Tel: 0086-13849118395
Contact: Mr. Li
Q Q: 1430396450
Wechat: 0086 13849118395
Address: Mazhai Industrial Zone, Zhengzhou, Henan, China
Hookah charcoal other equipment
Tablet machine
Author (
Admin
) Views (
) Posted at (
2012/12/27
)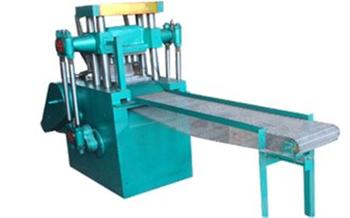 Arabia hookah charcoal machine is based on the hookah charcoal market demand and carbon forming characteristics, from my company 's new design and production of Arabia hookah charcoal machine. The machine can be various granular, powdered charcoal powder material is compressed into round hookah charcoal tablets. Molding working disc speed, material filling depth, molding thickness can be adjusted. Machine mechanical cushioning device can avoid damage to parts caused by overload. Machine configuration powder suction box, through the suction nozzle can absorb the dust produced when the machine is in operation, greatly reducing dust on workers body caused by injury, while avoiding sticking and blocking, and recyclable materials to use.
In 1, this product is a fully automatic machine, can suppress a variety of powdery materials, according to customer requirements of various sheet type press.
In 2, a pressing of 28, middle class 30000 tablet every hour, motor power 4KW.
In 3, the machine is suitable for the charcoal powder or powder compression molding, is at present on international very popular charcoal products compression equipment. Can be circular, convex concave and various special-shaped pieces; smooth surface, the size of the pressure, density can be adjusted automatically. Can also be used for chemical industry and a variety of special industry, need sheet molding mechanized production, fast speed, high economic benefit.
In 4, this product is the exclusive production, has been more than foreign introduction. The machine saves manpower and material resources, improve the product quality. Mainly used for charcoal powder, pharmaceutical, food, chemical industry, has the advantages of safe operation, convenient repair, low noise characteristics.
AX PI hookah charcoal tablet machine technical parameters
| | |
| --- | --- |
| Maximum pressure ( KN ) | 200 |
| Maximum diameter ( mm ) | 450 |
| Depth of fill ( mm ) | 50 |
| Maximum thickness ( mm ) of electrical agent | 25 |
| Rotary disk rotating speed ( r/min ) | 8—10 |
| Production capacity ( po/h ) | 9000—12000 |
| Power ( kw ) | |
| Host weight ( kg ) | 3200 |
| Dimensions ( mm ) | 620X900X1500 |
| Note: can be customized according to user requirements to adjust | |