Contact Us
E-mail: 1430396450@qq.com
WhatsAPP: +0086 13849118395
Tel: 0086-13849118395
Contact: Mr. Li
Q Q: 1430396450
Wechat: 0086 13849118395
Address: Mazhai Industrial Zone, Zhengzhou, Henan, China
Arab Hookah charcoal forming machine
Stamping bar making machine
Author (
Admin
) Views (
) Posted at (
2023/05/16
)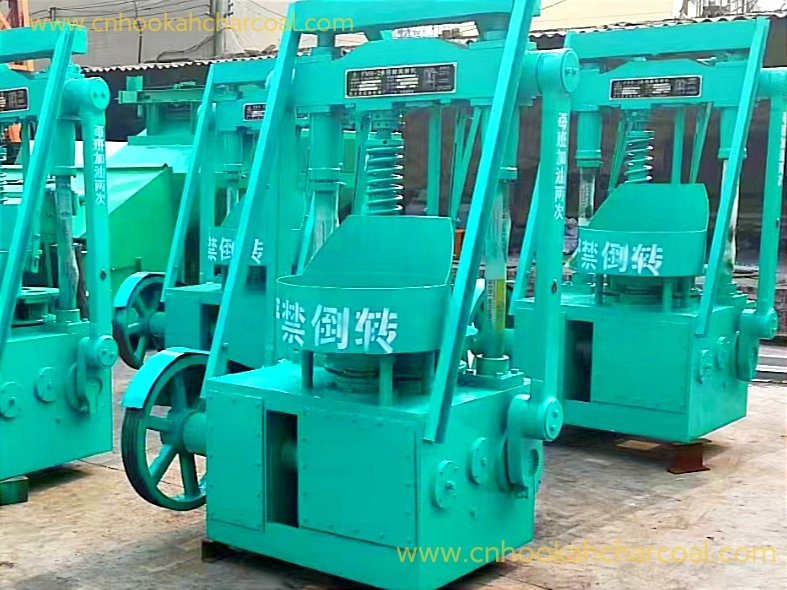 Stamping rod making machine is a kind of carbon powder forming equipment which takes various carbon powders as raw materials and stamping into various shapes through mixing. The stamping rod making machine can easily exchange moulds to produce carbon products of different specifications such as fast burning carbon, barbecue carbon and heating carbon. In addition, the stamping rod making machine can produce various hookah carbon products by changing moulds of different shapes, such as round column, hexagon, rectangle and square, so as to greatly expand the functions of the stamping rod making machine. It has been exported to many countries around the world.
The stamping bar making machine has a simple structure, which is divided into five parts: body, rotation, feeding, stamping and conveying. All parts cooperate with each other, and the operation is coordinated and stable.
During production, the main engine pulley rotates clockwise. Reverse rotation is strictly prohibited. Before starting the machine, remove the V-belt to test the motor rotation. The V-belt test machine can be installed only when the motor rotation is consistent with the rotation of the large wheel of the rotating machine.
During the test run, the motor shall be impulse rotated by inching method. If there is no other noise, the machine can be started only when the operation is normal. It is strictly forbidden to start the heavy vehicle. The material can be put into production only after the machine operates normally.
| | | | | |
| --- | --- | --- | --- | --- |
| | | | | |
| | | | | |
| Shaped carbon diameter£®mm£© | | | | |
| | | | | |
| | | | | |
| Belt speed£®turn/minute£© | | | | |
| | | | | |
| Type C anti pressure£®kg£© | | | | |
| | | | | |